Best Mortgage Lenders 2020
The Best Mortgage Lenders of 2020
My Top Pick
Get Qualified With Chris Now
Chris has stood out in the Carolina's as a local leader in the mortgage industry both as an advocate for today's buyer and as a top industry professional. Chris has been in the mortgage business for just over 20 years now. His real desire is to help his clients navigate the lending process with care, concern, and with a positive attitude. He wants to make sure his first-time buyers have access to the local programs that make homeownership possible and also wants to ensure his senior clients seeking a reverse mortgage get the attention and explanations they deserve.
Chris has been ranked in the top 1% of America's originators (Mortgage Executive Magazine), has earned the industries Five-Star Professional Award many times, and even hosts his own radio show on ESPN 730 The Game every Sunday at 10:00 AM called Reshair Radio (www.reshairradio.com). Chris's expertise includes the standard Conventional/FHA/Va loans to Renovation/Reverse/Down Payment Assistance. He is your one-stop-shop for your local lending needs. Call Chris, The Mortgage Genuis at 704-277-4463.
Money's Top Picks
Quicken Loans

BEST MORTGAGE COMPANY
OVERALL

Guild Mortgage

BEST MORTGAGE COMPANY FOR
FIRST-TIME HOME BUYERS

We know how daunting it can be to purchase your first home, particularly if things like student loans and other financial burdens are affecting your credit score and budget. That's why Guild's range of credit options made it our top pick as the best mortgage lender for first-time homebuyers.

Guild also offers government-backed FHA, VA, and USDA loans, as well as programs that specialize in down-payment assistance. In fact, according to the MBA, Guild is among the nation's top five FHA lenders, making it a great option for qualifying borrowers with a credit score of 600.

For first-time homebuyers who think their credit scores or down payment amounts aren't enough to get a mortgage, Guild offers the best 3-2-1 Home program, which is a mortgage specifically designed for borrowers who meet low-income requirements or live in low-income areas; it features a nifty incentive which accepts a minimum 3% down payment, awards borrowers a $2,000 Home Depot gift card and a $1,500 grant that can be used for the loan's down payment or closing costs. The 3-2-1 program will be available until May 1, 2020.

3rd Party Ratings

---

JD POWER RATING

Better Than Most

Company Credit Check

MINIMUM CREDIT SCORE

620 is the standard, with minor exceptions

DO THEY CONSIDER ALTERNATIVE
CREDIT DATA?

Yes, ​such as utility bills and rental payment histories.

Guild Mortgage and Covid-19

Guild Mortgage company is actively monitoring the COVID-19 situation and has suspended foreclosures and evictions for the next 60 days following Fannie Mae, Freddie Mac, and HUD guidelines. Guild will not adversely report customer loans to credit bureaus through March and April and will be waiving late charges for all borrowers for the months of April and May. If you expect COVID-19 to impact you for a while, Guild Mortgage, in partnership with investors, is offering an initial forbearance option.

Navy Federal

BEST MORTGAGE COMPANY FOR
MILITARY MEMBERS

As the world's largest credit union, the fourth-ranking VA loan originator in the country, and one of the best mortgage lenders by customer satisfaction according to J.D. Power, Navy Federal Credit Union (NFCU) is our top pick for military service members.

While it doesn't take the lead on VA loan originations, NFCU does offer more in terms of accessibility and convenience than similar competitors. Unlike other VA lenders, it has 343 branches around the world for those wanting in-person assistance and, as a credit union, NFCU is a member-owned non-profit entity, so its main interest is serving its customers as opposed to the business' bottom line.

NFCU also services all of its mortgages in-house for the life of the loans, which can be important for customers looking to do business solely with the lender they have researched and chosen. In fact, according to J.D. Power, having their loans involuntarily transferred to a new servicer can be a pain point for many consumers.

While VA loans are government-backed, they don't feature the same interest rate across lenders. However, borrowers looking into mortgage products through NFCU can take advantage of its rate match. If you find a better rate elsewhere, NFCU will match it or give you a deduction of $1,000 off your closing costs.

Membership is open to active-duty military members as well as reservists, veterans, retirees, and annuitants.

3rd Party Ratings

---

JD POWER RATING

Among the Best

Company Credit Check

MINIMUM CREDIT SCORE

620 is the standard, but they accept less than perfect credit scores for certain loan products

DO THEY CONSIDER ALTERNATIVE
CREDIT DATA?

Yes, it considers data such as utility bills and evaluates a member's tenure or loyalty to the company.

Navy Federal and COVID-19

Navy Federal is offering eligible members a three-month forbearance, which temporarily suspends mortgage payments for three months. Members will also be provided options to make payments missed during forbearance.

"We understand that some Navy Federal members are going through an unprecedented experience right now. Our commitment has been and will continue to be to support our members the best we can," said Janelle Allison, Vice President of the Mortgage and Equity Resolutions Branch at Navy Federal. The latest details on NFCU's forbearance for mortgage borrowers can be found on NavyFederal.org's website by clicking on the COVID-19 Response button near the top of the main page.

Additionally, closing a mortgage loan may take longer than usual, but Navy Federal is honoring initial locked rates in light of COVID-19. For more information regarding other personal loans, checks or transfers, visit their COVID-19 response blog​.

ANOTHER GREAT OPTION

Veterans United Home Loans

LARGEST
U.S. VETERAN LENDER

Veterans United Home Loans is the country's top VA loan originator, surpassing even industry giant Quicken Loans. While the fact that it specializes in loans backed by the U.S. Department Veterans Affairs makes it a great option for those looking into this type of mortgage, it doesn't offer home equity loans, and services only some of its loans. Additionally, Veterans United has branches in only 18 states.
BEST MORTGAGE COMPANIES
Top Mortgage Lenders by Region
Avg. Credit Score & Mortgage Amount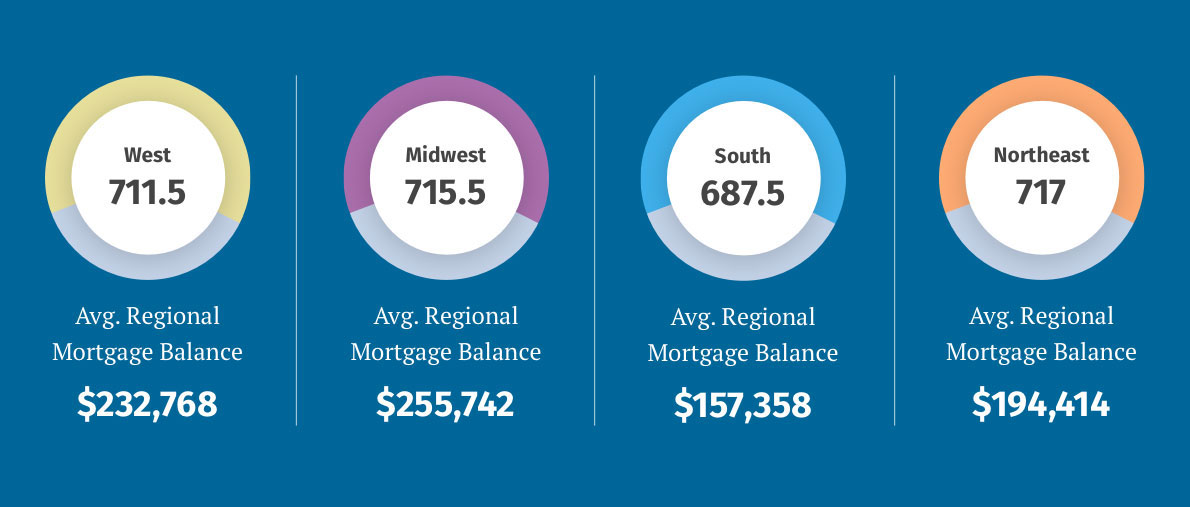 Total Loans Originated per Company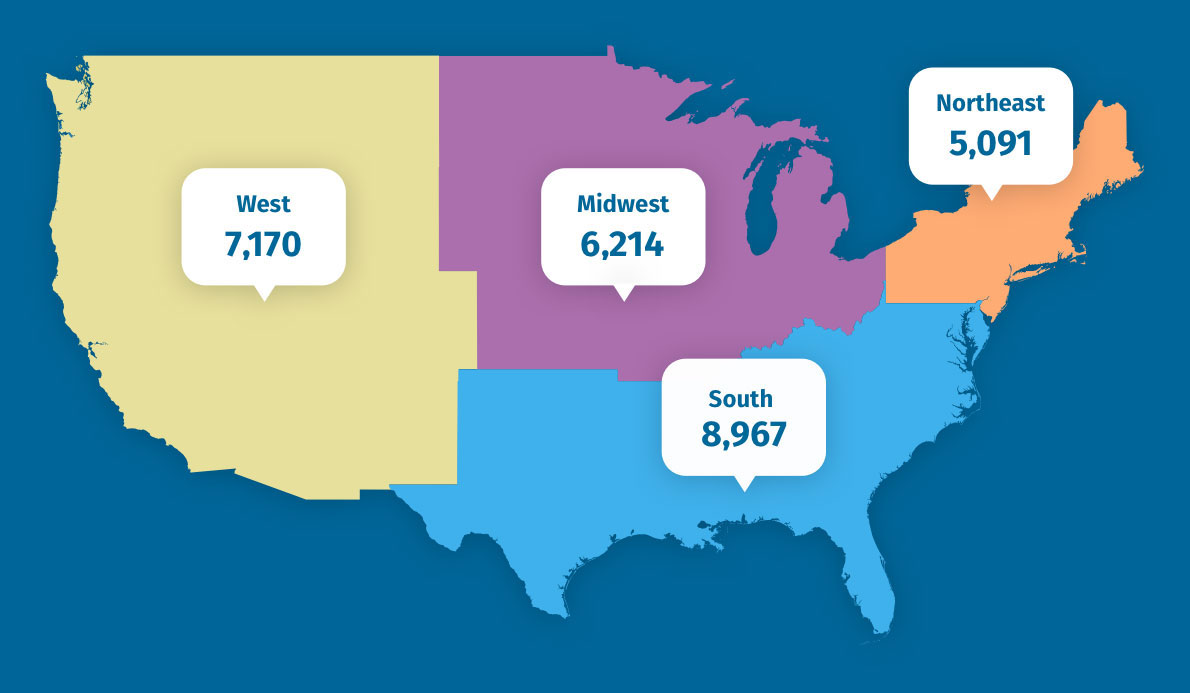 Methodology
When we got started in January, the fact that there weren't more borrowers taking advantage of the historic plunge in mortgage rates gave us food for thought. This led us to look into market trends and interview economists, real estate professionals, loan officers, and mortgage brokers, to better understand the elements at play in the current mortgage market.
It also led us to look at the qualification requirements of some of the largest mortgage lenders in the industry in an attempt to identify which banks offered the best deals to ordinary borrowers.
With this in mind, our research process began with gathering data from the ​Mortgage Bankers Association and ​JD Power​ to identify the nation's top mortgage lenders based on originations as well as overall consumer satisfaction. This narrowed down our preliminary list of 100 national mortgage lenders to 24.
Using the same data, we calculated the median number of purchase originations, including those for government-backed loans, and eliminated any lenders that fell well below average. This further narrowed down our best list to 11 mortgage companies, including brick-and-mortar banks, credit unions, and online lenders.
We then vetted these companies based on the 16 most important attributes of a lender according to a survey of our interviewees. Additionally, we ran a short consumer poll on MONEY's social media platforms for seven days, in which almost 100 participants told us which type of lender they preferred. That left us with just three mortgage lenders we identified as the best in the business.
Your Mortgage Questions Answered
Should I go for an adjustable- or a fixed-rate mortgage?​

I qualify for both conventional and government-backed loans. Which one should I choose?

What documents do I need to apply?

Will I have a higher interest rate because I'm self-employed?

If I want to buy a house, where should I start?
Buying A House In 2020
UPDATE: WHO declared COVID-19 a pandemic on March 11, 2020.
As of March of this year, the ​Federal Reserve​ has taken extraordinary measures to stabilize the market in response to the coronavirus pandemic. The year started off with mortgage rates plummeting to a 50-year historic low — and while rates have risen slightly, they have remained well under 4%.
As we head into spring, interest rates are projected to stabilize as the economy recovers, according to the Mortgage Bankers Association (MBA). Last month, when rock-bottom mortgage rates caused a boom in applications, the MBA's Adjusted 2020 Forecast​ revealed that total mortgage originations would reach a whopping $2.61 trillion — a 20.3% increase from last year.
According to Adam DeSanctis, MBA's Director of Public Affairs, these projections aren't expected to change. In fact, their most recent report shows that refinancing is still 195% higher than 2019​ as borrowers continue to take advantage of low mortgage rates.
So, if you're looking to make the most out of the current market conditions and are financially ready to make the dream of homeownership a reality, our list of best mortgage lenders can be a great starting point to help narrow down your options.
Mortgages and COVID-19​
On March 18, Freddie Mac, Fannie Mae, and the US Department of Housing and Urban Development (HUD) announced​ they were taking measures to protect those affected directly or indirectly by the novel coronavirus. This includes:
A nationwide suspension of all foreclosure sales and evictions
Additional mortgage relief options and the expansion of forbearance programs to incorporate those affected directly and indirectly by this crisis, effective immediately
Loan modifications such as loss mitigation, which is usually offered for natural disasters, may be available as well — depending on your mortgage lender
Additionally, as per the ​Financial Services Forum​, some lenders are implementing supplemental relief efforts such as fee waivers and are not reporting negative credit to credit bureaus. If you have a loan with one of the entities mentioned above, please contact your mortgage lender as you may be entitled to some relief programs if you were affected by COVID-19.
Is Now the Right Time to Buy?
There is no single answer to the question of whether or not it's a good time to buy. ​There's no denying that COVID-19 put a halt to the longest period of economic growth in U.S. history. Social distancing has paused the economy, and economists at the Federal Reserve of St. Louis now predict that by the end of Q2, a total of​ 47.05 million people ​will be laid off ​—​ unlike any other event experienced in the United States in the last 100 years.
In effect, the financial market's uncertainty has caused mortgage rates and applications to continue experiencing significant volatility, according to Joel Kan, MBA's Associate Vice President of Economic and Industry Forecasting.
"The bleaker economic outlook, along with the first wave of realized job losses reported in [last month's] unemployment claims numbers, likely caused potential homebuyers to pull back," said Kan in the latest MBA weekly survey. "Purchase applications were down over 10 %, and after double-digit annual growth to start 2020, activity has fallen off last year's pace for two straight weeks."
However, despite all odds, ​mortgage loan applications have increased​ due to lowering interest rates​, according to the MBA.
In an effort to recover from the coronavirus, Freddie Mac is working with the Federal Housing Finance Agency (FHFA), to make it easier to buy, sell, or refinance a home. Specifically, Freddie Mac is relaxing employment verification requirements and offering appraisal alternatives in light of the crisis.
Additionally, Freddie Mac and Fannie Mae have announced a nationwide relief plan to help borrowers facing financial hardship as a result of COVID-19, effectively suspending all evictions and offering forbearance plans for up to 12-months.
"We are committed to helping families affected by the virus and we are instructing servicers to work with borrowers who are unable to make their mortgage payments to ensure they are evaluated for a forbearance plan or other appropriate assistance," said Kevin Palmer, senior vice president of Single-Family portfolio management at Freddie Mac.
So if you want to take advantage of low rates and this window of opportunity, contact your mortgage lender first to evaluate the options that are available to you.
LATEST MORTGAGE NEWS
Homeownership Facts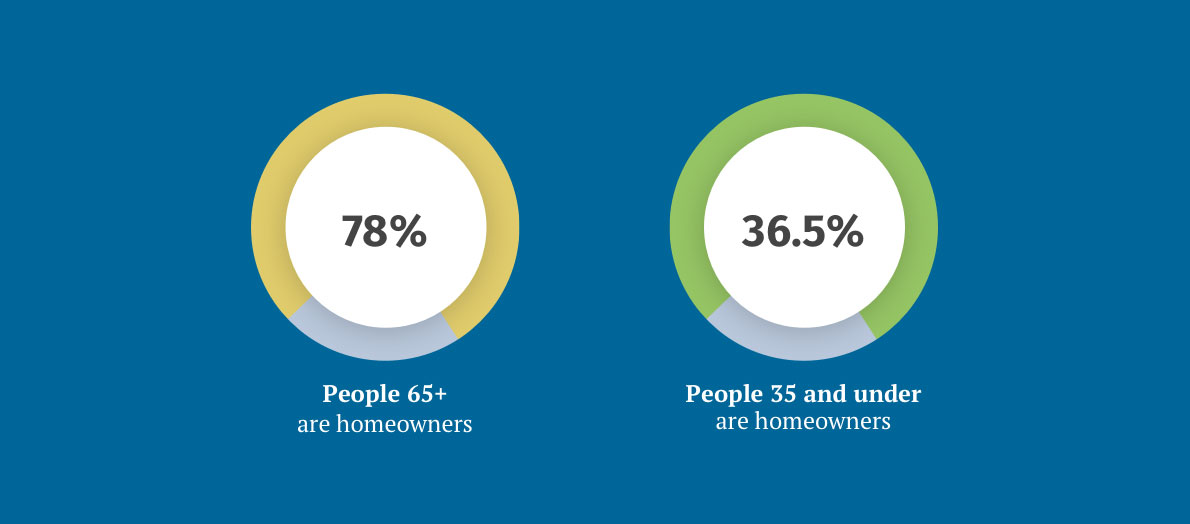 Sources​: Census.gov, Nar.realtor, Mortgage Bankers Association
Market Projections Timeline According to Experts
Generational Trends
Millennials and Gen Xers are currently projected to be the primary driving force behind the housing market, accounting for 37% and 24% of current home buyers respectively, according to the National Association of Realtors.

Millenials and Gen X are getting into buying homes and their process has been a bit different. I see that they want to do it on their own. There's a sense of accomplishment when saying 'this is mine.' I do find a lot of people that have spent some time online either filling out their pre-qualification or preliminary approval.

Among all borrowers, the top three reasons provided for liking the online application process were: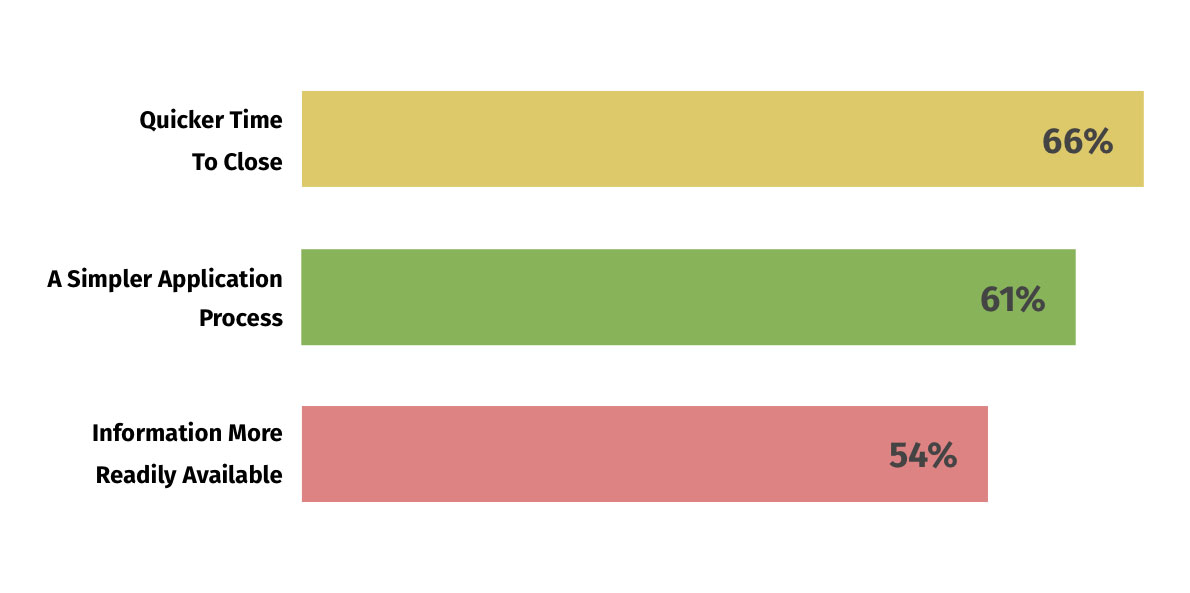 In fact, fintech vendor Ellie Mae's 2019 ​Connecting with Borrowers Online​ study reveals that borrowers have increasingly opted to use online resources and tools to research and contact mortgage lenders. Interestingly, however, only 50% of borrowers preferred lenders that offered an online portal or application process.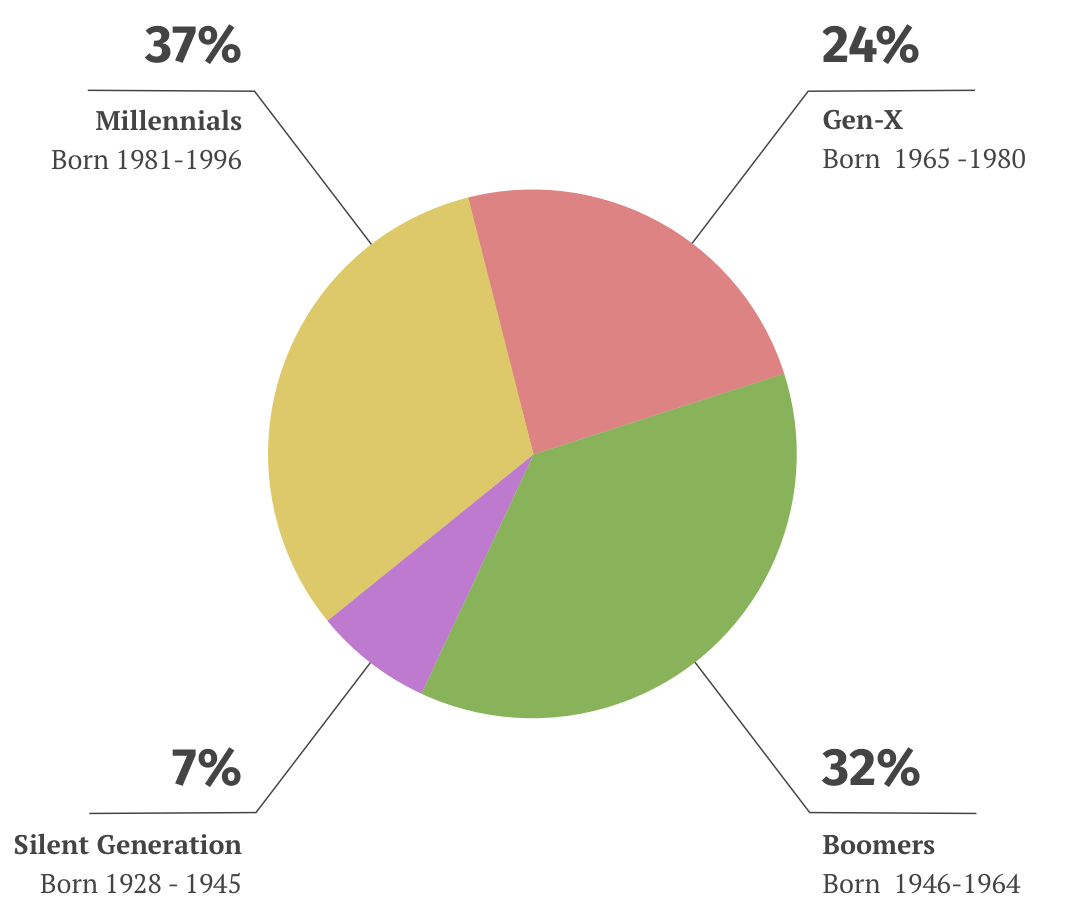 To Summarize: Best Mortgage Lenders of 2020
In the end, the best mortgage lender in 2020 is the one that can offer you the best terms and interest rates, plus the lowest fees.
Still, our list of top picks can serve as a starting point to simplify your journey and point you in the right direction, when looking for the right financing option to purchase the home of your dreams.
We've included affiliate links into this article. Click here to learn what those are.